| | |
| --- | --- |
| Recycling Guide | |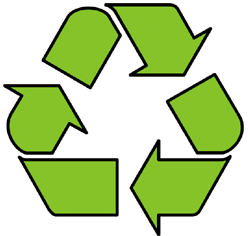 Curbside:
Single-Stream Recycling
You can put all plastics, glass, paper materials, and cardboard into the same recycle bin. Cardboard MUST be flattened to be collected and no trash in the cardboard.
Acceptable Items

Unacceptable Items

Cardboard

- Standard Boxes, Pizza Boxes, Food Boxes, Packaging Boxes

- These items may be recycled as long as they are not soiled with food or other residue.

 

Paper

- Newspapers, Magazines, Office Paper, Shredded paint (must be contained in a bag)

 

Plastic Containers & Bottles

- Plastics containers #1-7

 

Metal & Aluminum

- Aluminum Cans, Steel Cans and Food Containers, Empty Aerosol Cans, Empty paint cans, paint cans with dried paint should go in the trash.

 

Cartons

- Shelf-stable cartons

- Refrigerated cartons

 

Glass

- Food & Beverage Glass Only

- Clear, Brown, Blue and Green

Containers




 

Food- Soiled Materials

 

Broken Glass

Drinking Glasses

Scrap Metal

Plastic Bags (Including Grocery Bags)

Solvents, Oil and/or Chemical Containers

Waxy Cardboard

Used Paper Towels or Tissues

Hoses

Needles and Medical Waste

Windows, Mirrors, Ceramics

Aluminum Foil

Plastic Food Wrappers

Christmas Lights

Propane Tanks
Prepare Paper/Cardboard:

1. Remove all packaging (styrofoam, peanuts, plastic, bubble wrap, plastic liners, etc.).
2. Flatten ALL boxes.
3. Cover loose paper with heavier containers to prevent it from blowing away.

Prepare Plastic and Metal:

1. Remove caps/lids.

2. Rinse thoroughly.

3. It is okay to leave on labels & neck rings.

Beginning 1/24/13 PA passed a law called the Covered Devices Recycling Act.
This prohibits residents from disposing of covered devices as trash. (Which means, your trash
man is not allowed to take these items curbside) Covered devices include desktop computers, laptops, monitors, computer peripherals (keyboard, mouse, printer and speakers),
televisions, and e-readers that browse the internet. They DO NOT include cell phones, motor vehicle componenets, appliance components or items such as handheld calculators,
PDSs, MP3 players or similar devices.

As a resident of Lancaster County you can dispose of these items at the Lancaster County Solid Waste Management Authority's Household Hazardous Waste (HHW) Facility,
located at 1299 Harrisburg Pike in Lancaster. The HHW Facility will accept a maximum of 10 units per visit, per day from Lancater county residents and businesses. Visit
www.lcswma.org to learn more.

It seems like the cost of everything keeps going up. By recycling you can do your part to help keep trash costs down.
717-684-3147 100 Deacenti Dr. Columbia, PA 17512